Posts Tagged 'iPhone'
Steve, it's time to concede the iPhone 4 isn't quite a flawless home run.  It's like cutting the video to black just short of seeing the hitter round 3rd and trip, heading face first into the sand.  Stop calling it a "stumble".  It doesn't matter if the ball is already outta the park.  Take the fall, get up, brush off and talk about how Apple is going to resolve this issue, and then make it happen.
The longer you wait, the bigger the roar of unhappy customers that are figuring out their recent increase in signal issues isn't just a coincidence.
I'd love to see some charts from AT&T that show trending for signal degradation across handsets, specifically the iPhone line.  I bet the iPhone 4 leads the pack in sudden degradation.  Who knows if they trend any of this already, but I can guarantee you'll never see any of it made public.
Apple stock is down, and Consumer Reports, while offering a GLOWING review based on features/functionality is recommending against purchasing until the issue is resolved.  Even devoted fans are cursing their phones due to dropped calls and degraded signal.
Personally speaking, I've noticed the issue somewhat intermittently, and believe that, like so many other variables that affect wireless performance, it's not an issue that by itself can bring the signal to an unusable level, but drastically exacerbates the other pre-existing variables.
What do I mean? Well, think about it.  .  .with any phone, your signal often seems to rise and fall for no apparent reason at all.  Maybe the tower is a bit overloaded, maybe the weather is changing, maybe your "dome" is blocking some of the signal as you move around.   There's literally thousands of reasons wireless signal may degrade.  If none of these are impacting you, and you degrade your signal by shorting that gap on the iPhone 4, all is well, even if it cuts your signal by up to 50%.  However, if you were in a low coverage area to begin with, or any of the aforementioned issues are affecting you, goodbye call.  This makes it really hard for the end user to identify what's really causing the issue.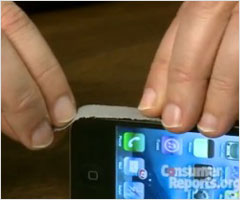 Consumer Reports did their test in an enclosed area with special equipment to virtually eliminate other variables, and determine the real impact of signal attenuation alone.  Guess what?  They're suggested fix is a piece of tape over the joint to stop attenuation.
Wake up Apple, we want a fix. . a REAL fix.