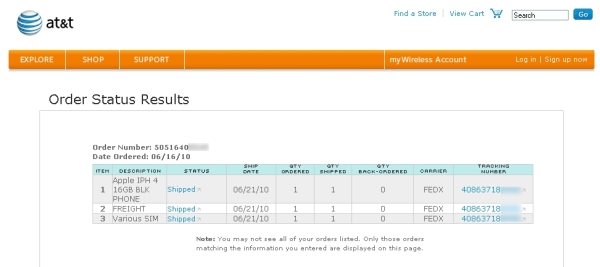 Just checked my status at AT&T again for my iPhone 4, and it shows shipped!.  The FedEx tracking # doesn't work yet, but this really does seem to solidify that at least I'll be getting a phone sometime this month.
I'm loving iOS4 on my 3Gs so far.  It's a little cumbersome at first to scroll through the running apps after a double click, but feels intuitive.  The unified inbox is also nice, but it leaves we wondering: why didn't they color code the messages based on the account received through, or present an option for this?  Maybe it -is- there and I'm missing it.  If not, Steve, can you hear me?? Color coding on emails. . kthx
Pandora runs in the background just as expected (continues to play), and didn't cause any noticeable lag.
Wallpapers on the home screen just feels right.  Just like a good case adds a custom look and feel to the iPhone, so does a customizable home screen, and this should have been an option for day 1.  Folders is another great feature that works exactly as you'd expect it would, but again, it should have been there since day 1