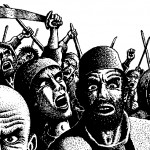 We've all been there.  You need milk, bread, or maybe even just a drink.  You stop at a convenience store, stand in line, and when it's your turn to pay, they won't accept your debit card unless you spend $10 (or some other arbitrary amt. of money).
Beware that merchants (convenience stores, shops, etc.) *CAN* impose up to a $10.00 minimum for credit card transactions, but they *CANNOT* for debit cards.  You could use your debit card to pay for a single piece of penny candy if you so desired. Though, good luck finding penny candy anymore

Most debit cards can also be used as credit cards, but this doesn't matter.  As long as you can use your card as debit, and enter a PIN for the transactions merchants cannot refuse to accept it for any purchase amount.
What can you do?
Strike back!  VISA has a form on their site to report merchants that impose minimums for debit transactions.  Even if your debit card is issued through another provider like MasterCard, you can *still* use the form on VISA's site, as long as the merchant accepts VISA.
Here's the link:
https://usa.visa.com/checkoutfees/contact.jsp
Tell your family, tell your friends.  Unless consumers report these merchants, their policies will never change.
I for one am TIRED of getting denied at checkout when all I want to do is pickup milk, and get home.
Want more info?
Here's the bill that makes this federal law.  Page 698 has the relevant info:
http://www.gpo.gov/fdsys/pkg/BILLS-111hr4173enr/pdf/BILLS-111hr4173enr.pdf