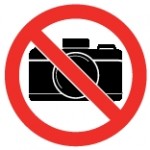 Traveling to Kuwait?  Leave your DSLR behind.  Kuwait has banned everyone (except journalists) from using Digital Single Lens Reflex cameras in their country.
http://thenextweb.com/me/2010/11/23/kuwait-dslr-camera-ban-now-in-effect/
Not that Kuwait is exactly high up on my list of travel destinations anyway, but seriously. . c'mon!  It feels like the earth is spinning backwards people!