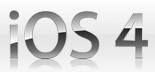 iOS 4 (previously iPhone OS), has been released and is available for download through iTunes.  If you haven't updated your iTunes recently, you'll need to update that as well before performing the firmware upgrade on your iPhone.  If you've got an iPhone 3GS, you can look for the following new key features:
Multitasking, Folders, Unified Inbox, iBooks, 5x Digital Zoom, Tap To Focus Video, Faces and Places in Photos, Home Screen Wallpaper, Gifting Apps, Spell Checking, Bluetooth Wireless Keyboard Support, and much much more!
If you own a 3G, most of these features will be available, save for multitasking.  The 3G just simply doesn't have enough juice (mem/cpu) for multitasking to work well.  If you're still kicking around an "original" iPhone, you're out of luck, as this update doesn't support that model at all.
Happy updating!
UPDATE:
Looks to be about 378MB, and is downloading  at ~5mbps for me.