I bought 2 of  these little digital gems from DealExtreme for $5.90/ea to keep an eye on temp and humidity in my house, basement, and root cellar.
Several reviews clearly said it only displays Celsius and is not mod'able to display Fahrenheit, but I do enjoy a challenge.  Especially  a challenge where something is dirt cheap

The unit arrives pre-assembled from DealExtreme.  You need only open the battery cover, remove the insulator from the battery and it powers right up.  There are indeed no buttons or controls at all, but there's (4) tiny screws holding it together.  If you remove these (4) screws, carefully pull the LCD off the board (it's kind of "stuck" on there), and then remove the little black foam piece, you'll see this: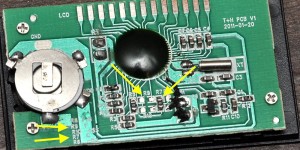 [Click the image to see the full-size]
Follow my arrows and you see R7 is labeled "C" and R9 "F".   The resistor on R7 is marked "0″, meaning zero ohms.  It's just connecting those two solder dots, that's it.  I carefully pried that off with a utility knife, and soldered a tiny copper wire between the two dots on R9.
Bam!  Fahrenheit instead of Celsius

Note: When you put it back together, be careful to line up the LCD with the PCB so that when you apply pressure the display is complete/correct.  Once lined up, re-assemble with the (4) screws.  The pressure of the case is what keeps the LCD pressing on that PCB to maintain the display.