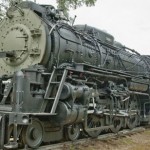 Ok, time for me to crawl out of my hole and post something.  I've been really busy doing some pretty major work on a new house, but this story caught my eye:
http://dvice.com/archives/2012/05/the-future-of-r-1.php
Ever since I was a small boy, I've loved steam engines.  While diesel engines sound like an off balance washing machine on spin cycle, steam engines huff, puff, chug, and drip with industrial sexiness.
Steam engines were historically powered by burning dirty coal, and lots of it, but The University of Minnesota and Sustainable Rail International plan on modernizing and converting old No. 3463 from the Sante Fe Railroad to burn biocoal.  Unlike regular coal, biocoal is clean-burning and carbon neutral.
I really hope these guys make a dent in bringing back steam.  When I was younger, growing up in the northeast, you could go 25 miles in any direction and find steam exhibition rides or even tourist railroads running steam, but nowadays finding a running steam engine is next to impossible.  The generation of folks that worked the railroads when these beasts ran freight and passenger service is almost gone, and younger generations just don't care to get involved.  This could change that.
I rode the Reading 2102 when she ran exhibitions in the early 90's in Pennsylvania.  If you've never seen a running steam engine, here's video I shot with my dad's camcorder wayyyy back in 1991: