Just by chance, last night our thermostat was "adjusted" by our youngest creature (Cameron), and when we woke up this morning the temp felt a little cooler and nicer.  It was holding at 68 instead of the usual 70 we maintain during the day. I thought, that's it, I'm getting a programmable thermostat today.  It'll pay for itself in less than 1 season if we actually like it 2 degrees cooler at night.
Before I headed out to Lowe's to pickup a 75ish dollar programmable thermostat, I figured I'd check online one more time to see if any new price-competitive IP-enabled thermostats had hit the market.  WOW AM I SURE GLAD I DID.
Internet or IP-enabled thermostats have long been on my wish list of geek goodies for a while.  I've previously looked at units from Proliphix, Ecobee, BAYweb, and others.  They all either *require* utilization of their over-the-internet web interface (some for free, some for a monthly fee), and/or are prohibitively expensive.  The BAYweb isnt too bad at ~$200.00, and looks like rock-solid hardware, but it claims to have zero support for direct query to the device, and only communicates via an outgoing encrypted connection to the BAYweb web site.  To a home automation hacker, this is about as attractive as using AOL for email.
Enter the "RADIO THERMOSTAT CT50"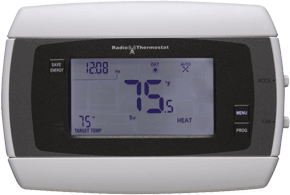 This little gem is only $100, features full local programmability, *and* access to the back-end IP interface via Wi-FI.  I'd actually prefer wired ethernet, but for $100, I'll shut the fuck up and deal.  They sell these direct for ~$140, but they've partnered with 3M/Filtrete, and are selling them through Home Depot for $99.98.
The 3M/Filtrete Part # is: 3M-50. Search for "radio thermostat" at homedepot.com.
EDIT: Home Depot  no longer sells these, but you can get them HERE.
I haven't gotten it yet, but I ordered based on the following features:
*Local Programmability
*Wi-FI
*API Available (free)
*Direct query to the device for variables like temp/humidity (say for ex. using curl to grab variables from a script)
*iPhone App for controlling directly (free)
*PC App for controlling directly (free)
*Remote Access via their website (only if you want to use it this way)
*CHEAP CHEAP CHEAP – Somehow this thing is more full-featured than all the competition for 1/5th the price!!!!  It's in the same price category as non-IP enabled programmable thermostats.
GO order one now before they wise up and price this more appropriately ~$250!
UPDATE – I received it, and further review is here: