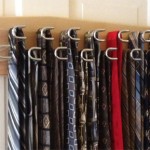 Recently I've had to start wearing ties to work, and the two total ties I previously owned just wasn't cutting it.  I harvested the ties my father used to wear, which rounded out my tie selection quite acceptably.  Unfortunately, I quickly realized that while having two ties in your sock drawer works just fine, having fifteen in there doesn't.
I headed out to my trusty local Wal-Mart to pick up a tie rack, but alas, they had none!  Mind you, they weren't out of them, they simply didn't carry them.  Sure, I could have ordered one online, but that meant waiting, and patient I am not.  So, I bought a few vertical wooden hangers that came with hooks meant for belts and headed home.
At home, I pulled out the hooks from the vertical wooden hangers with locking pliers and made a simple plan to build my own rack:

The tie rack is 22″ wide, and 4.5″ tall, a good size to screw to the inside of most closet doors.
I made mine out of 3/4″ pine and sanded a nice round-over onto the edges.  I marked everything with my 1:1 paper template, and drilled out the holes for hooks.  I pounded the scavenged hooks into the holes with a mallet.  You could just as easily makes the hooks from wooden dowels or cut lengths of aluminum rod.
I'm pretty happy with the result, and thought I'd share the plans.
Below is a PDF of the tie rack plans.  It prints onto 3 sheets and each page overlaps the next by 2″.   Make sure your printer is NOT set to shrink to fit, or it won't be the full 22″ when you cut and tape it together.
Tie Rack Plans – 1:1 PDF Template
Enjoy!