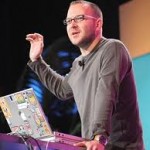 Wow! Cory Doctorow did a tremendous job putting together a keynote speech for the Chaos Computer Congress in Berlin, entitled "The coming war on general computation."  He then turned it into a full-blown article titled "Lockdown" and published it here:
http://boingboing.net/2012/01/10/lockdown.html
Go read this, now and tell all your friends as well.  This guy put into words what all of us geeks that understand the inner workings of the internet and PC's have been saying for a long, long time in a way that's fairly easy to understand and makes a whole pile of relevant points both technologically, politically, and practically.
Hats off to you Cory!
This is about real issues that as the prevalence of technology grows year after year mean more and more.  If we don't figure out how to properly prevent regulation in areas it doesn't belong, we'll be paying the price in the future in ways we haven't even thought of today due to stifling innovation, control, etc.