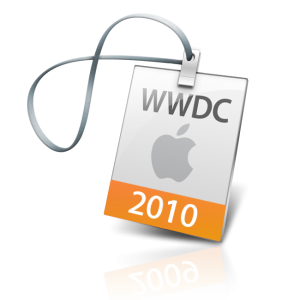 Beginning  at 10am pacific (1pm eastern), Steve Jobs is expected to take the stage @ WWDC 2010 for the keynote.
He's expected to announce the new iPhone 4G, given it's leak via gizmodo and various Vietnamese sources, but what else?  AT&T has recently bumped up eligibility for nearly all of their current iPhone customers (or at least those currently still holding the original iPhone or a 3G) as referenced here:
http://www.macrumors.com/2010/06/07/atandt-moves-up-iphone-upgrade-eligibility-on-eve-of-wwdc-keynote/
and here:
http://gizmodo.com/5557102/att-makes-almost-everyone-eligible-for-a-new-iphone
My guess is that the AT&T move signals Apple will announce an end date to the exclusivity of their relationship with AT&T for the iPhone.  AT&T will have to start treating their Apple-loving customers a little nicer if it wants to keep them.
Coincidentally, the touchscreen on my wife's 8GB original iPhone died yesterday, and while the phone still boots and works, it's impossible to interact with.  She's already eying my 3GS, and I'm eying the possibility of a 4G