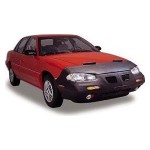 I'm at the mini market today in the parking lot waiting for the wife to return some DVD's to the aptly named "Red Box".  The car next to us had a bra.  A BRA.  I had to unlock my iPhone to check the date and make sure it was still 2011.
God for bid you found this blog post while googling thinking about getting one, here's 3 reasons WHY YOU SHOULDN'T:
1) Ugly as sin
2) Dated.  Nothing says 1997 like a hunk of vinyl stretched across the nose of your car.
3) Protects NOTHING.  If anything it DAMAGES your car  trapping in fine dirt particles that scratch up your ride with movement.
JUST SAY NO.