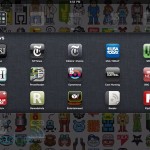 Engadget has a video review of iOS 4.2 running on an iPad over at their site:
http://www.engadget.com/2010/09/15/ios-4-2-on-ipad-preview-video/
It looks pretty sweet, and most importantly of all, performance doesn't seem to suffer.  I'll admit, I've been using my iPad less lately since it can be frustrating not to be able to pull off a chat and simple browsing session at the same time without wasting half your time logging in and out of AIM and waiting for Safari to re-initialize.
iOS 4.2 for iPad is slated for a November release according to Apple.