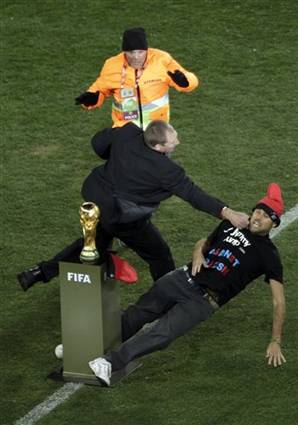 I don't normally blog about anything sports related, but this photo is chock full of so much awesomeness that I had to.
More info here:
http://nbcsports.msnbc.com/id/38190786/ns/sports-world_cup/
but the short of it is that this guy apparently sprinted onto the field pre-game and tried to put a hat on the World Cup trophy.  A security official "restrained" him. . and by restrained I mean pwned his face with their fist

By the way, just in case you were in closet all day, Spain won the world cup.
UPDATE:
I found a video!
http://www.youtube.com/watch?v=FCmz2ymM1qU